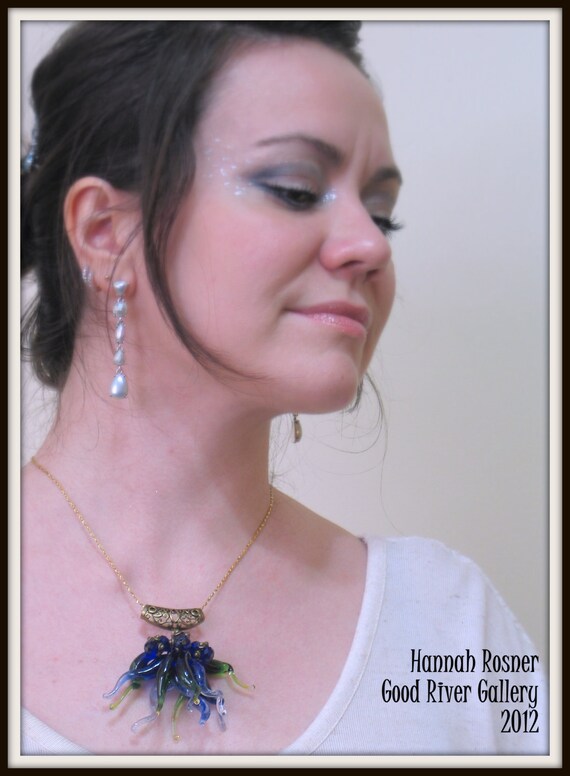 SOLD
This necklace was inspired by Dale Chihuly's Chandeliers. 11 separate handmade lampworked pieces are linked together with 14kt gold over brass rings and bail. Topped in cut crystal. Come with an 18" black velvet neckpiece with an extension chain.
You can have one made to order! Check here.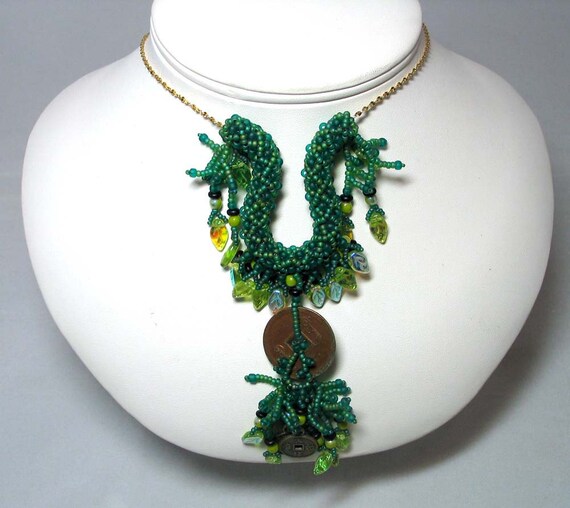 If Money Grew On Trees Pendant - SOLD

A variation of a design I first worked up over a decade ago. This one has an antique Chinese coin, Czech glass leaf beads, little Chinese coin inspired drops and Japanese Seed Beads.
Look for the If Money Grew on Trees Tutorial COMING SOON!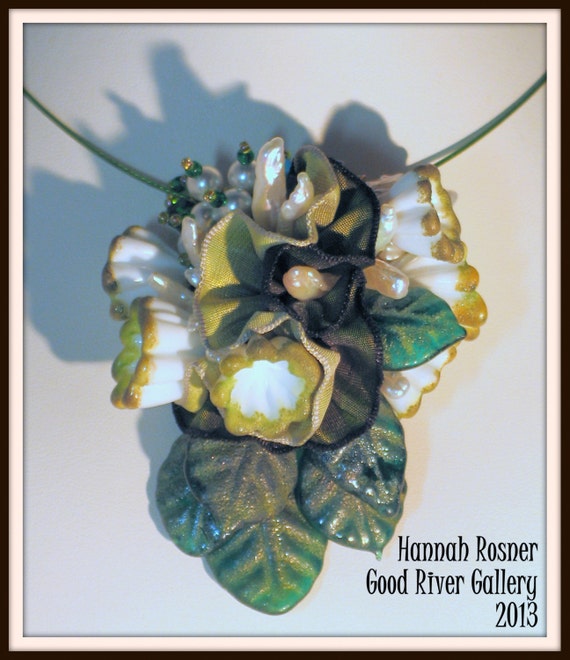 English Garden Necklace
SOLD
Lampwork Glass leaves and flowers, pearls, crystal, Swarovski pearls and Japanese seed beads are embroidered onto a brick stitch beadwoven base. Freshwater Pearls, Swarovski Pearls, lampwork glass & Japanese Glass Seed Beads.
Treble Clef Pendant
Lampwork Beads, Swarovksi, Japanese seeds & Czech pressed glass Pendant. Made of copper wire that has been coiled into a graceful curve, then woven with delica beads in Right Angle Weave (RAW).
SOLD
Fossil coral & Turquoise Pendant
Handcut Fossil coral, Jasper, turquoise, copper, Czech & Japanese Glass.
SOLD
Harlequin Cascade Pendant
Lampwork Glass & Swarovski Crystal
SOLD
Learn to make your own cascade pendant
Its a beginning level pattern